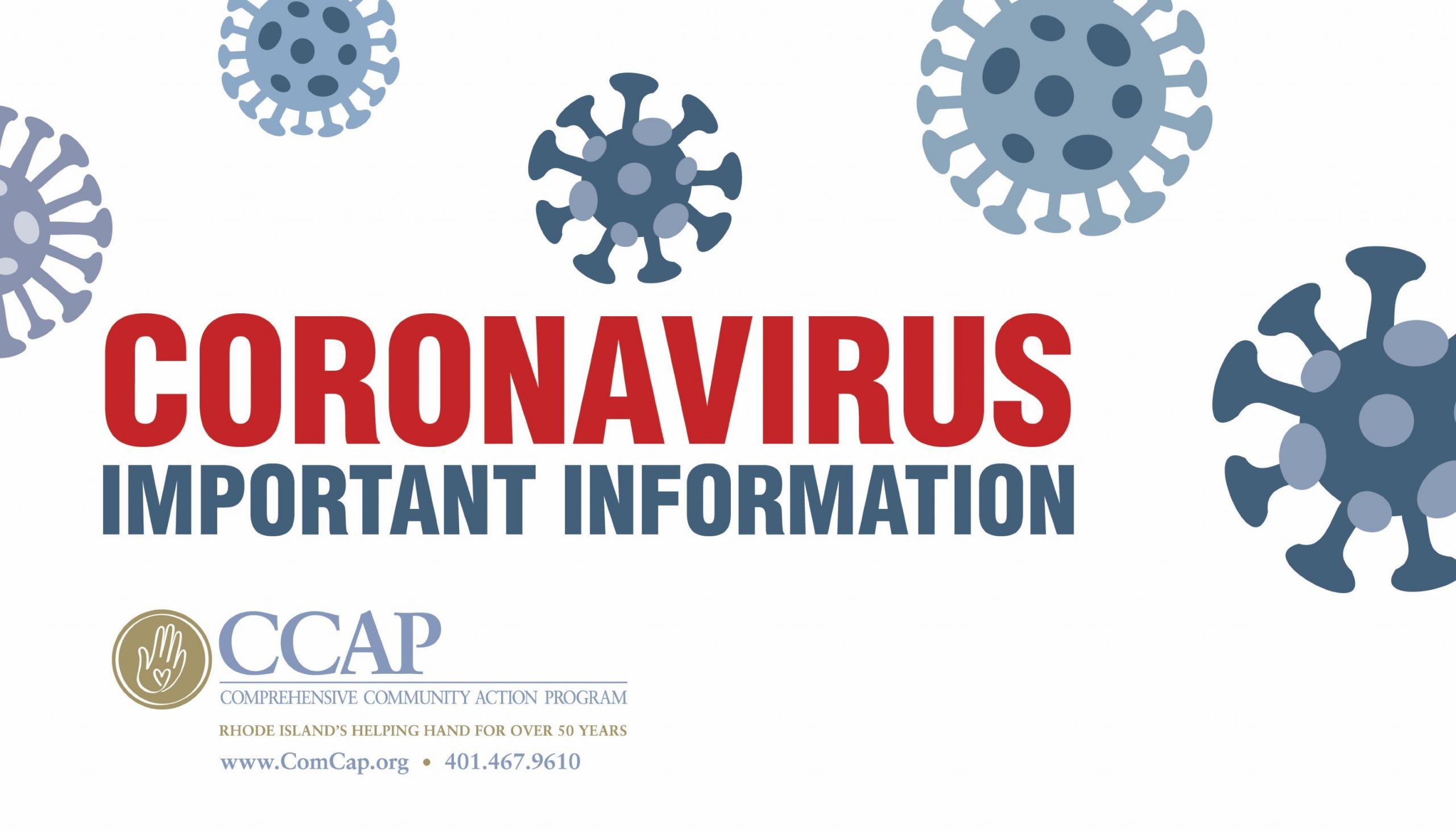 Because the safety of our community and staff are our priority, Comprehensive Community Action remains open to serve the needs of our community.  We continue to follow the guidance of the CDC and the RI Department of Health. As information is updated, we will adjust our workflow and access as appropriate.
 Staff who are able will be working from home when feasible. Our goal is to have as little disruption to client services as possible while providing the utmost safety measures.
We are conducting health screenings based on the most up-to-date public health recommendations at all our health centers and at our Administrative Offices, 311 Doric Avenue. No one may enter these buildings before screened.
Our Health Centers remain open for the community. We are limiting some non-urgent visits due to concerns for employee and patient safety. If you're sick, call us before coming in. Do not come to CCAP Health Center if you have any flu-like symptoms, such as cough, fever, sore throat, or shortness of breath – Call us.
CCAP Family Dental Services has cancelled all nonemergency procedures and services until further notice. If you have a dental emergency call 401-942-4867. We are open for emergencies only.

Behavioral 

Services are open. We are working toward providing services by remote telehealth if deemed appropriate on a case-by-case basis.
Child Development Centers and Day Care are closed until Friday, April 3, 2020, per request of the Governor.
Learn to Earn Youth Education and Job Training Youth Centers are closed, however, on Monday, March 23, 2020, we will be offering distance learning and distance programing. Please contact your local CCAP youth center for more information – freegedri.org
Women, Infants and Children (WIC) Services are currently not conducting in person appointments. WIC nutritionists will be available via phone to answer your nutrition or infant and child feeding questions. CHECKS WILL BE MAILED- YOU MUST CALL US TO CONFIRM YOU ADDRESS to receive your check. Please call 401-946-4650 to update your telephone number and address. Please call if you do not receive checks within 5-7 days.  Re-Certification appointments (appointments that require a height and weight by a WIC nutritionist) will be temporarily conducted over the phone.  Testing for iron levels will be delayed and we will ask for payees (parents and guardians) to measure the child's height and weight at home and give the nutritionist that information over the phone.
Social Services is open, but has suspended walk-in services. Staff is available by phone to provide assistance to clients with: The Low Income Home Energy Assistance Program (LIHEAP), emergency services and guidance on the VITA tax preparation service alternative filing methods. To contact Social Services, please call 401-467-7013 during regular working hours or email at info@comcap.org.
Weatherization Assistance Program (WAP) and Appliance Management Program (AMP) home visits have been temporarily suspended.
Food Bank has suspended walk-in service, clients can call and arrange to pick-up their regular monthly pre-made food bags. Please call the Food Bank at 401-467-7013 to make an appointment.
The Rhode Island Donation Exchange has temporality closed its showroom, but is still accepting donations – please email them at: info@donationexchange.org to make arrangements.
In the event that we would have to modify or cancel our services, we will issue notifications on our website (comcap.org), and via email and our social media, including Facebook and on Twitter (@CCAPORG). If you have any questions about the Coronavirus, please visit the Center for Disease Control website: www.cdc.gov/coronavirus
Learn More