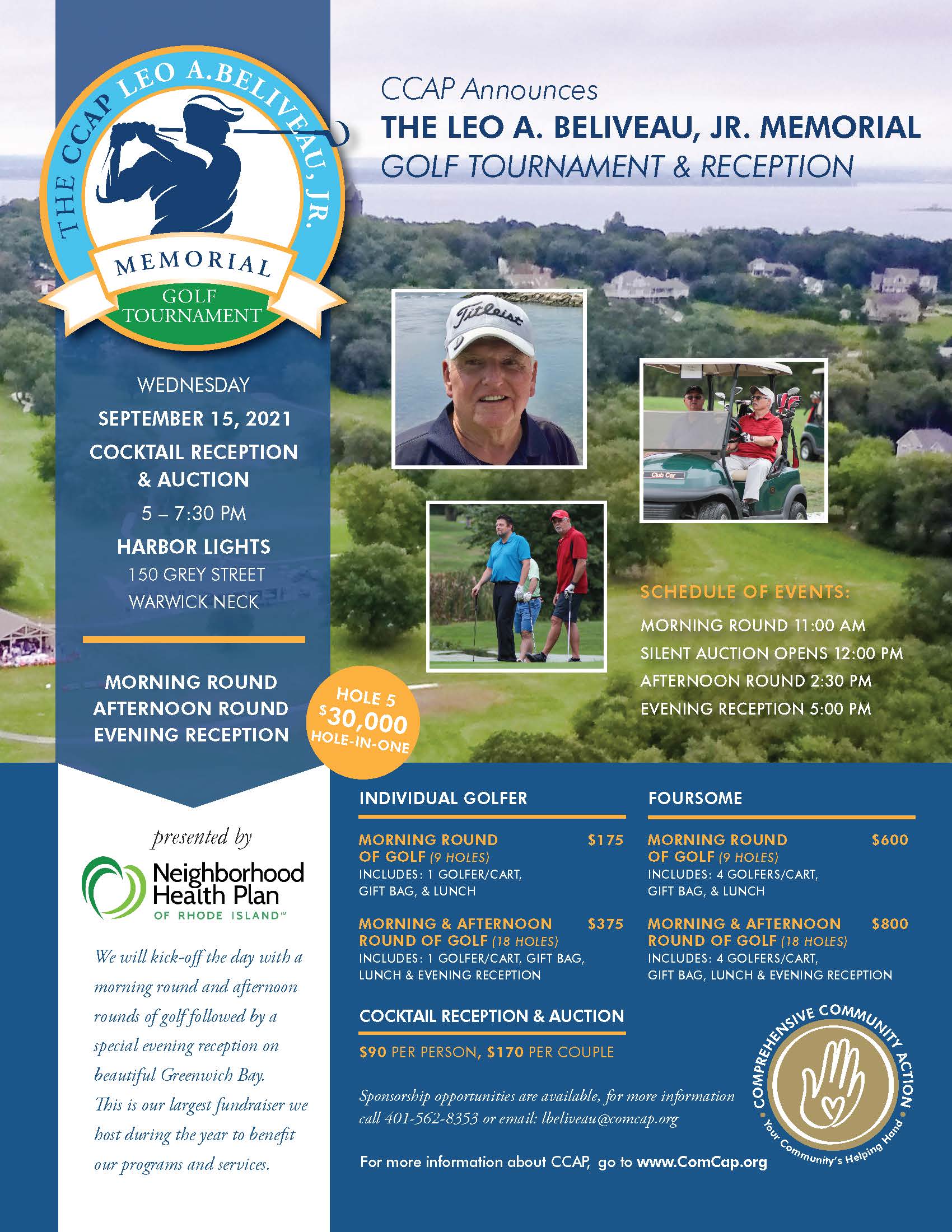 WEDNESDAY, SEPTEMBER 15, 2021. COCKTAIL RECEPTION AUCTION – 5 – 7:30 PM
HARBOR LIGHTS, 150 GREY STREET, WARWICK NECK, RHODE ISLAND
As a non-profit community action program we need to raise funds to assist families we serve. As you may know, a large number of families we serve have lost their jobs, suffered an illness, or a different type of crisis…usually through no fault of their own. I am proud to say, that during this past year of the pandemic all CCAP's programs and services, such as the Food Bank, Family Health Services, our Educations programs, Family Services and Social Services continued to provide services to community. Last year we touched the lives of more than 40,000 people and provided over $1.2 million in uncompensated services.
To help assist those families in need, we will be hosting The CCAP Leo A. Beliveau, Jr. Memorial Golf Tournament and Reception, Wednesday, September 15, 2021 at Harbor Lights. We will kick-off the day with a morning round and an afternoon round of golf followed by a special evening reception on beautiful Greenwich Bay. This is the largest fundraiser we host during the year to benefit our programs and services and we hope that you will join us in supporting the event.
SCHEDULE OF EVENTS:
MORNING ROUND 11:00 AM
SILENT AUCTION OPENS 12:00 PM
AFTERNOON ROUND 2:30 PM
EVENING RECEPTION 5:00 PM
Sponsorship opportunities are available, for more information call 401-562-8353 or email: lbeliveau@comcap.org
Learn More