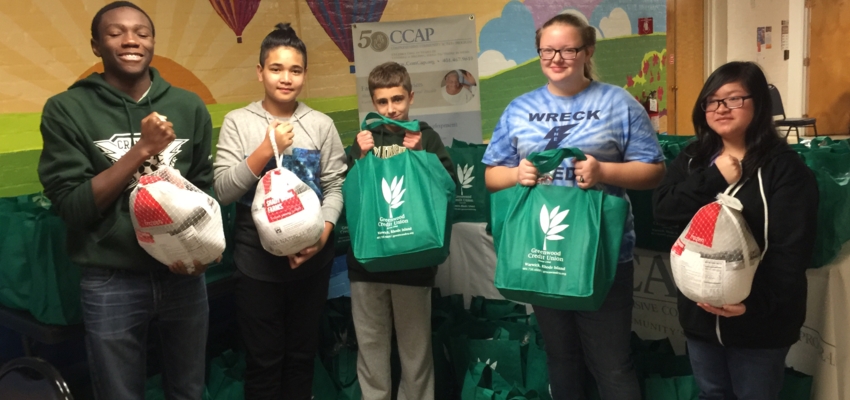 CCAP's 2016 Holiday Giving…Holiday Food Drives
OUR GOAL IS TO PROVIDE 1000 FOOD BASKETS THIS HOLIDAY SEASON!

Each month CCAP serves over 600 families in need at our Food Bank and we are seeing more and more families having trouble making ends meet and are unable to purchase needed food. The families we serve have lost their jobs, suffered an illness, or a different type of crisis, usually through no fault of their own.
Extra food for the holidays is an even bigger burden for families that need help. This year our Goal is to provide 1000 Baskets for the Holidays!
We would like to ask you to join us in "lending a helping hand during the holidays" by hosting a CCAP food drive in your church, work place, service group, school or community.
Food needed: frozen turkey, canned corn, canned green beans, canned yams, boxed mashed potatoes, boxed stuffing, canned turkey gravy, canned cranberry sauce, pie crust, canned pie filling, rolls, or $25 grocery gift cards.
Please see the flyer below for a list of needed food items. All food and donations are due by Thursday, November 10, 2016 during business hours 9:00 am – 4:00 pm, 311 Doric Avenue, Cranston, RI 02920 (lower level.) We can also arrange pick-up.
Your support of CCAP is deeply appreciated, 100% of all donations through our CCAP Holiday Food Drive go directly to the families we support. For more information about CCAP and how you can "lend a helping hand" contact Joanne Gregory, Vice President of Social Services at 401-562-8333.
This Holiday Season, when you sit down with your family to celebrate the bounty in your life, another local family will be Giving Thanks for You.
Related Posts
OUR GOAL IS TO PROVIDE 1000 FOOD BASKETS THIS HOLIDAY SEASON! Each month CCAP...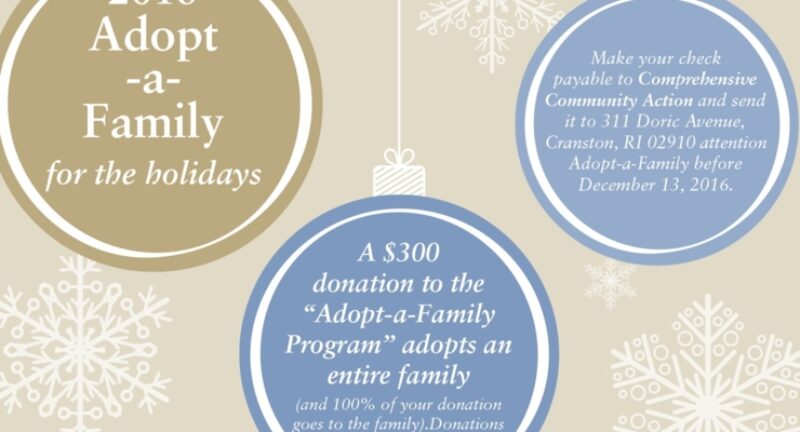 Toys, books and new bikes will be on the wish list of many children this holiday,...