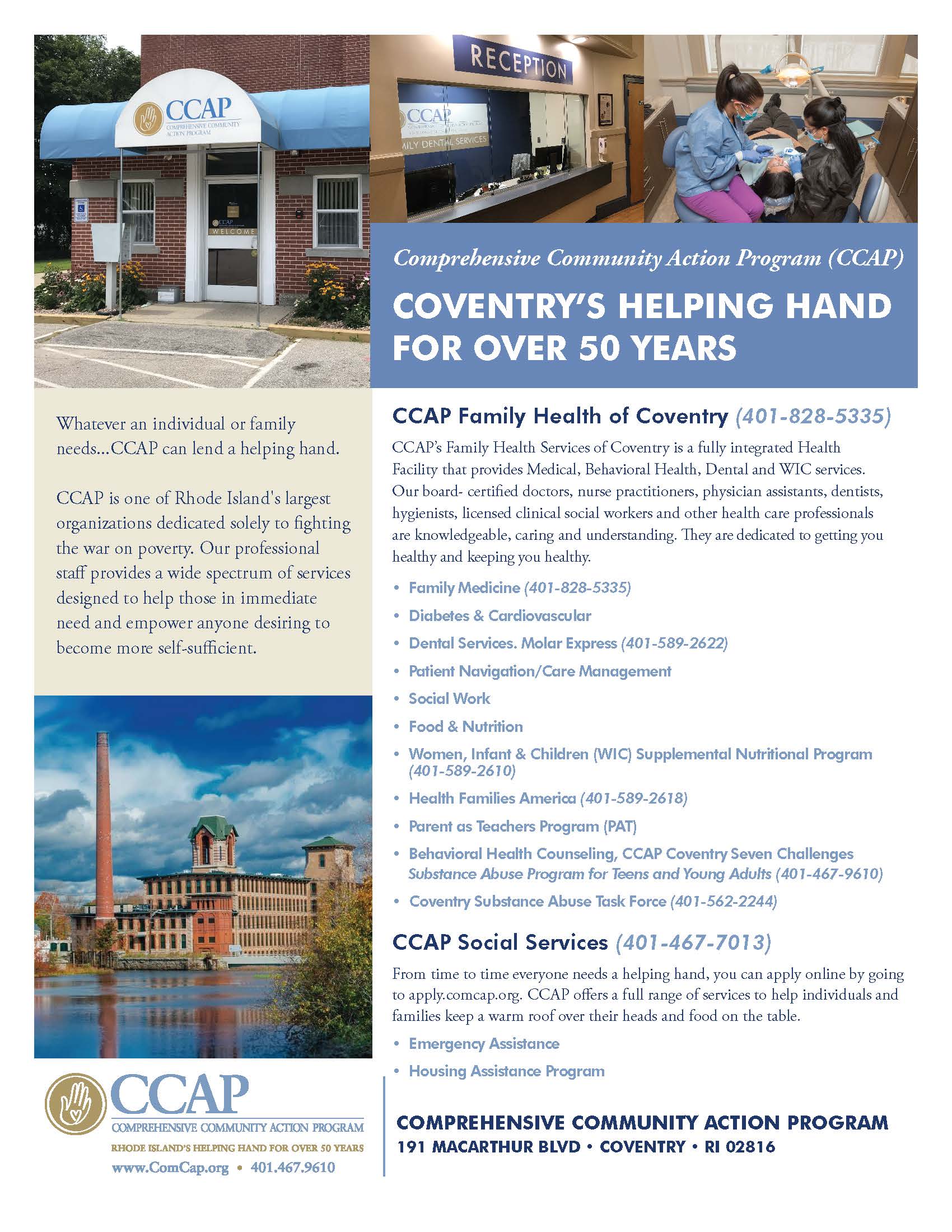 by CCAP
March 23, 2021
Anxiety and Stress, Child Anxiety, Community, Coventry, Food, Health, Housing Assistance, Parenting and Families, tax preparation, Teens, Treatments
0 comments
CCAP is Coventry's largest health and social service agency and we would like to invite you on a brief tour of our facility and our services.
Located at 191 MacArthur Blvd, our state-of-the-art facility, housing our primary health care center, our behavioral health care center and our new dental center is ready to provide you and your family with quality affordable health services.
Our primary health care center, Family Health Services of Coventry, staffed with family medicine physicians and physician assistants along with a team of nurses, medical assistants and social workers provide both office based and home based care; meeting the unique needs of you and your family.  From pediatric care to care for seniors, we are prepared to treat your entire family.  Our social workers are equipped to help you with all your social service needs and will provide additional supports to you and your family as needed. 
Our behavioral health programs offer general counseling and psychiatric services meeting the behavioral health needs of your family and community.  Treatment for anxiety, depression, PTSD and addictions are among many behavioral health concerns we address. In partnership with the Coventry School Department, CCAP offers school and home base substance use services for youth struggling with substance use through our "Seven Challenges" program. 
CCAP operates the Coventry Substance Abuse Task Force.  This community and school-based education and prevention program works closely with the Coventry School Department and the Coventry Police Department keeping all members of the community safe, informed and peaceful. 
In 2019, Family Health Services opened a state-of-the-art dental facility.  This facility, staffed with Family Dentists, Dental Hygienists and Dental Assistants are prepared to address all your dental needs. 
The West Bay Smiles Program and the Molar Express Program are our pediatric community based dental programs bringing mobile oral health care to locations in your community and the Coventry schools.
Our Family Centered programs; Healthy Families America and Parents as Teachers are 2 home based programs providing support and parenting education to young families in the community.  
Working closely with our WIC Health Nutrition program, young families receive all the supports necessary to make their families healthy and resilient.
We welcome all residents of Coventry to call with any questions or to meet with any of our staff. Our goal is to keep all residents healthy and safe. For more information, Call us:
401.828.5335, Medical
401.589.2622, Dental
401.589.2610, WIC
Learn More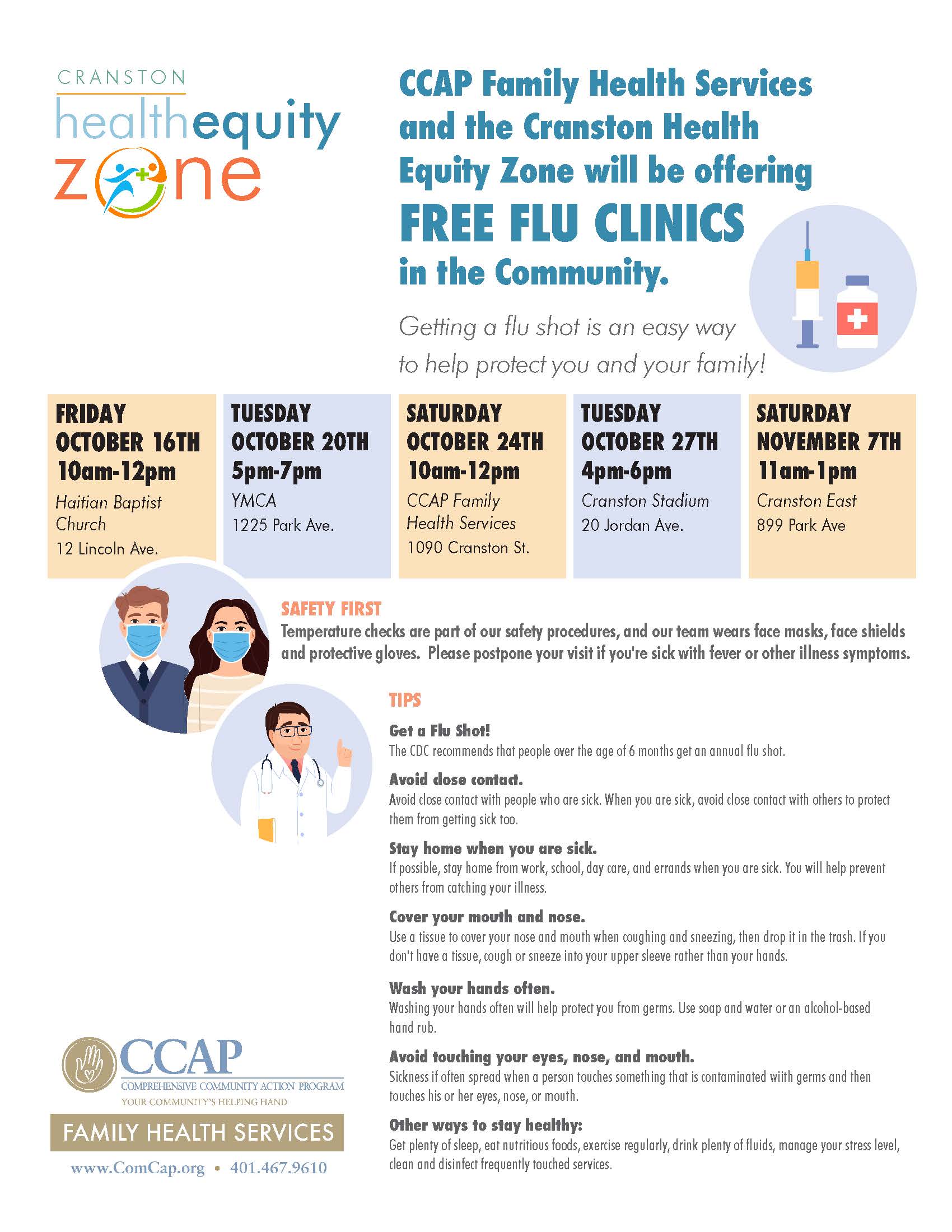 Don't forget to get your Flu Shot! Getting a flu shot is an easy way to help protect you and your family!
Friday, October 16, 2020 Haitian Baptist Church – 12 Lincoln Ave, Cranston – 10am-12pm
Tuesday, October 20, 2020 YMCA – 1225 Park Ave, Cranston- 5-7pm
Saturday, October 24, 2020 CCAP Family Health Services – 1090 Cranston Street, Cranston 10am-12pm
Tuesday, October 27, 2020 Cranston Stadium – 20 Jordan Ave, Cranston- 4- 6pm
Saturday, November 7, 2020 Cranston East – 899 Park Ave, Cranston 11am-1pm
**Safety first – Temperature checks are part of our safety procedures, and our team wears face masks, face shields and protective gloves. Please postpone your visit if you're sick with fever or other illness symptoms.**•
Get a Flu Shot!The CDC recommends that people over the age of 6 months get an annual flu shot.
Tips to Avoid the Flu:
.• Avoid close contact.Avoid close contact with people who are sick. When you are sick, avoid close contact with others to protect them from getting sick too
.• Stay home when you are sick.If possible, stay home from work, school, day care, and errands when you are sick. You will help prevent others from catching your illness
.• Cover your mouth and nose.Use a tissue to cover your nose and mouth when coughing and sneezing, then drop it in the trash. If you don't have a tissue, cough or sneeze into your upper sleeve rather than your hands.
• Wash your hands often.Washing your hands often will help protect you from germs. Use soap and water or an alcohol-based hand rub
.• Avoid touching your eyes, nose, and mouth.Sickness if often spread when a person touches something that is contaminated wiith germs and then touches his or her eyes, nose, or mouth
.• Other ways to stay healthy:Get plenty of sleep, eat nutritious foods, exercise regularly, drink plenty of fluids, manage your stress level, clean and disinfect frequently touched services.
Form more information about CCAP Familyu Health Services, please call (401) 467-9610.
Learn More